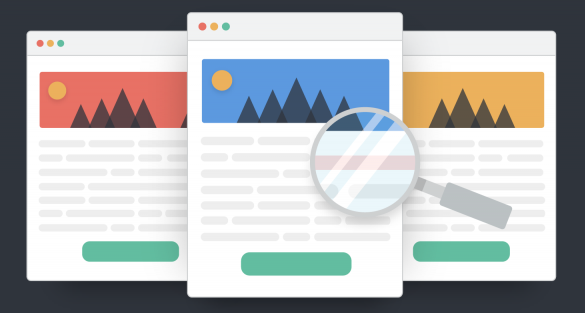 It can be very, very tempting to create that email as one big image so there's no chance it will have funky characters, or the spacing will be off, or the graphics pixelated. Seems like the solution to your email marketing problems, right?
Think again.
Most marketers are understandably dismayed when they spend hours creating a beautiful email design only to send themselves a test email and find that it looks nothing like what they've worked so hard on. Even though creating the email as one big image might seem like that right first step, it actually introduces a host of other issues that could result in an even worse user experience for your recipients.
In this post, we will discuss five reasons why sending an email that's just an image can hurt your email marketing.
1) It's likely your email will trigger spam filters
Email spammers are notorious for using images to hide the text of their email - if it's in an image, most email clients won't be able to read the spammy message about a far-off prince who desperately needs you to wire him money immediately. To make up for this blind spot, many spam filters will reject image-only emails.
For more ways on how to make sure your emails don't get caught up in spam filters, check out this post.
2) Some email clients will not display your email images
You don't want people to have to go through an extra step to see your message (e.g. click to 'download images' in Outlook). If the image is blocked, the entire email will appear to be blank and the recipient is more likely to ignore it, unsubscribe, or mark the message as spam.
For example, I took a screenshot of this email and sent it to myself. Here's the email as it is meant to appear compared to how it showed up in Outlook: If you are using an image in your email, don't forget to offer both an HTML and a plain text version of your emails; it's not only an indicator of legitimacy to ISPs, but it also makes your emails more reader friendly.
3) There is no preview text for an image-only email
Every inch of inbox real estate is valuable, including the brief line of preview text often shown in inboxes. Granted, you could use just one line of text in order to fill that need, but then you would still be left with the other four points outlined in this article.
4) Images in your email may be slow to load
Depending on the end user's internet connection and browser speed, it may take a while for the email to load. The longer it takes to load, the more likely they are to click away from the email, send it to the junk folder, or unsubscribe.
If you're having trouble getting emails to display in your default email client, check out this Knowledge article. Or this one, which is all about best practices for HubSpot's Email App.
5) The recipient of your email will not be able to search their inbox for keywords in that email
Do you want recipients to be able to find your email when they want to? Of course! There may come a time when an email recipient wants to reference an email you sent them a while back which has now been lost in their busy inbox. Give them the option to search for that email by using text for most of your content. A good rule of thumb is to use a ratio of 60% images, 40% text.
Updating your team on the latest inbound tools and techniques, Roman's sales training has managed to not only transform iProperty's sales team to be among the best in the world but numerous others in local and international markets from beginners to experts.
In just a couple of days of this proven, structured, training - sessions can help any size team meet their sales goals for continued company growth. Backed by knowledge that has helped Roman oversee $5 Billion dollars of real estate sales around the world, imagine how your team would benefit!
Visit N5R.COM for more information.