Since the creation of Twitter in 2006, the website has grown to be one of the most used worldwide. Both individuals and large corporations have incorporated the unique form of social networking into their daily lives. Updates through tweets, images and links have altered the way that people communicate online and impacted the way businesses operate. Over the past year there has been a 182% increase in Twitter users. 24% of all Twitter users check their tweets several times a day, making the website a profitable marketing move.

Large and small companies have recognized the importance of using the free social media tool. 77% of the top 100 companies across the globe have a Twitter account. Fortune Global 100 companies have approximately 5.8 Twitter accounts. Out of these accounts:
88% post company news/ updates
40% offer customer service
28% offer deals
10% release job information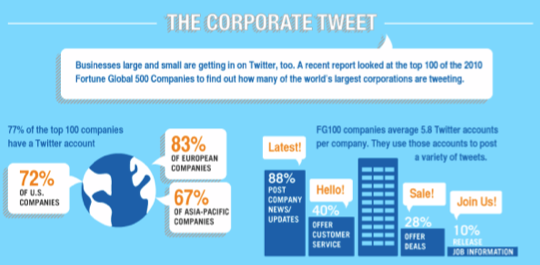 For more information, click HERE and learn about N5R, the global marketing and advertising firm who understands the importance of utilizing social media in business.